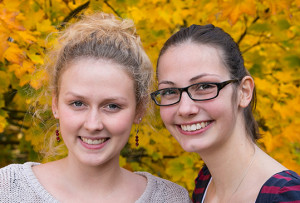 Each year, many young people start apprenticeships at EUROIMMUN. There are biology lab assistants, IT specialists, industrial clerks and dual system students. To make the start into the apprenticeship smoother and to help the apprentices bond, the company invites the group of new EUROIMMUN apprentices on a 2-day orientation trip with a communication seminar lead by Christof Lehmann, who is the head of the Product Management department and in-house coach.
Lisa and Charlotte both started their apprenticeship as biology lab assistants in September and tell us about the 2-day trip.
2nd September 2015, 8am, Seekamp, Lübeck:

17 new apprentices are waiting for Udo to bring them to Mölln for the orientation trip with the company-own bus. Everyone is excited and asking the same questions: What are the other apprentices like? How will we get on with Christof, the coach? Will we be sleeping in dorms or single rooms? What will the seminar be like? Already on the way to Mölln, everyone is speculating about these topics.

Once we arrive, Christof is already waiting for us. We start off with some simple games to get to know each other a bit better. After that, we are already able to match faces with the right names. Afterwards we do some team-building exercises in the park, which we repeat several times during the theoretical part of the training as we found them to be very useful.

Our first concerns about what Christof would be like all vanish right away. We all get along with him really well. At this point we would like to just say again: Thank you very much, Christof, you did a great job!

After we have first gotten to know each other, even the question about the rooms is answered: All the wondering about who should share rooms is invalid as everyone gets an individual room. Of course this doesn't mean we spend the evening in our rooms. Instead we all sit together at the campfire and enjoy a lovely evening.

The training in general is all about getting to know each other and about communication techniques. For example we are taught how to confidently take phone calls from customers. We also learn about active listening, enquiry practices, and I and you messages. There is also an introduction and a task that we need to solve in partner or group work.

We have really enjoyed the training and can take a lot home. What left us really impressed was the amount of amazing food we were offered! At lunch and in the evening there was a three-course menu and in the meantime, there was fresh fruit and cake ready for the tea breaks. During the training, Christof offered us sweets.

The seminar was a great start into our apprenticeships at EUROIMMUN.

Lisa S., Charlotte K.