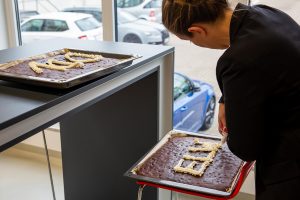 This months, EUROIMMUN has celebrated a small milestone: a total of 100 EUROLabWorkstation (ELW) have been completed, 65 ELW ELISA and 35 ELW IFA. Since their introduction to the market in 2017 and 2019, respectively, the systems have been successfully installed with customers worldwide, including leading laboratory chains in the USA, Germany and Brazil.
The ELWs are high-throughput systems for fully automated processing of ELISAs or indirect immunofluorescence tests (IIFT). Their development was based on the experience gained in decades of laboratory routine and at numerous device installations.
EUROIMMUN already looks back on a long tradition of designing, developing and producing automated systems and devices in-house. At the beginning, these were mainly production machines, since, at that time, there were no suitable machines on the market for the production and processing of BIOCHIPs – one of the company's first and most important inventions.
The production machines were soon followed by instruments for laboratory automation to meet the customers' increasing demand for more efficient, more traceable and more standardised processing of EUROIMMUN ELISAs and IIFT at a simultaneously increasing sample volume. Initially, EUROIMMUN used instruments from third-party manufacturers. In 2013, EUROIMMUN launched its first own automated laboratory system for flexible and efficient liquid handling of IIFT, ELISAs and immunoblots: the EUROLabLiquidHandler. Its technical platform later became the basis for the development of the ELWs, which supplement EUROIMMUN's automation portfolio by two company-designed and -produced fully automated systems for high-throughput processing.
The concept of the ELW ELISA, which was first presented at the AACC in 2015, mainly focused on safety, efficiency and convenience for full ELISA automation. Samples, reagents, consumables and ELISA plates can be traced via barcodes or DataMatrix codes and are thus protected from being mixed up. The 10 washable pipetting needles enable top-speed processing of over 700 samples in a single worklist. This makes the ELW ELISA the most powerful high-throughput ELISA system currently available on the market. The ELW software stands out with its clear design and intuitive operation via touchscreen, which allows even less experienced users to monitor and control the entire work process via the software. Since the entire package comes from EUROIMMUN, its developers can react quickly and flexibly to changed market requirements.
In 2019, the ELW IFA was launched. In addition to the liquid-handling platform, this system also includes the technology of the in-house developed stand-alone device MERGITE! for automated washing of IIFT slides. The ELW IFA thus allows automated IIFT processing from the primary sample to the mounted slide, at full traceability. Together with the fully automated fluorescence microscope EUROPattern, it represents the most modern complete package for the automation of IIFT that leaves nothing to be desired.
The fact that the 100th ELW has now been completed within a short time after first market introduction is perfect proof that customers are truly delighted by these systems and that they meet the current zeitgeist.